I was supposed to try Anjo's mock exam in this Golden Week.
However,
May 3rd: Returned to my hometown to see my family
・・・ My little brother and I visited my parents home because we cannot return to home on the comming mother's day.
We gave a keyboard to our mother as a gift since she said she had been interested in playing the piano. (We were sorry that we cannot afford to buy a piano, yet.)
She did seem happy to receive a gift from her children, who don't look like children any more, having grown up to be Ossan, now!
Of course, the keyboard cost far less than $11,000. So the gift tax won't be imposed. (日本でも贈与税控除は
110万円
。アメリカの真似かな?)
May 4th: Took a day trip to Arima hot-spring resorts.
・・・ , which was suggested by my wife and I had no choice. I haven't taken my wife to anywhere for months. I wanted to stay home to study to improve my socre on GLEIM-CD, but,I thought it's also important to release her stress before she gets too much frustrated...(Besides,
I fogot her birthday this year
and did nothing for her...)  
 The concept of balanced scorecard told me that every action should be well balanced, and so my study schedule and the domestic peace in my family are to be balanced well. But, the oppotunity cost of losing another day was huge, which I have to compensate in the latter half of the Golden Week... She did seem to have enjoyed the hot spring and the beautiful scenery of the counryside. As for me, I was mumbling Audit Standard Report, Review Report, and Compilation Report in a sauna sweating-bath in Arima. I felt dizzy by the time I came to the last sentence of the compilation report, "
・・・any form of assuarance on them
." I felt the other guys around me in the sauna gave me a weird look. I ignored them. hahaha.
(Following are the photos taken by my cell phone.)
Here we are, Arima-onsen hot spring resort.(有馬温泉)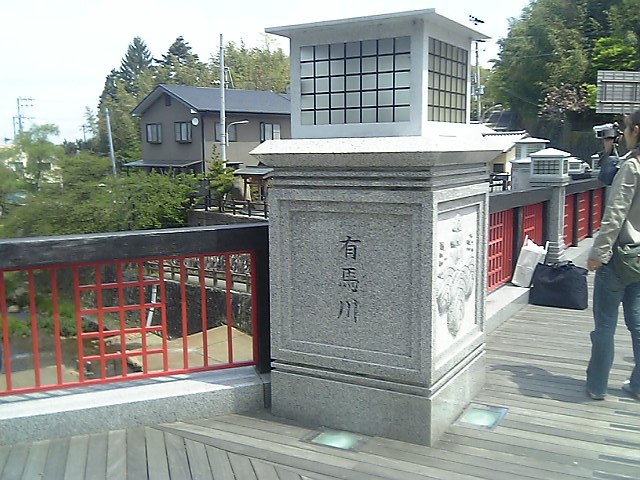 Ashiyu(足湯), or foot-bath hot spring
It's not mud, by the way. The hot water is rich in iron content,
which is cold
Kinsen
(金泉), or golden water in Arima.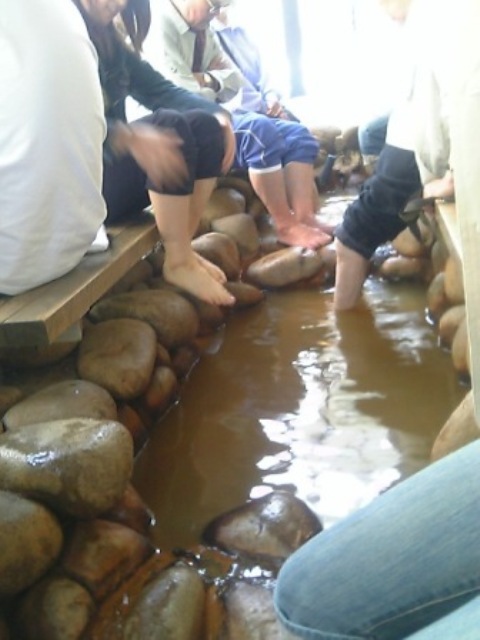 The ropeway gondola was too thrilling for me (I'm acrophobia!)
the view from the summit of the Rokko-san hill(六甲山)
That's how the last two days were diverted from my original plan.
May 5th: Boy's Festival
To compensate for the loss in the last two days, I started from the morning. A CPA study friend dropped me a line by email. "She must be studying now," so I thought and studied much harder.
The GLEIM socre was 68% (AUD).... I wonder if I can really improve my score on GLEIM in 80 days?
Now I'm working for BEC. I'll keep doing it until midnight, when I start BEC mock exam.
( I decided to try mock exams at midnight, when I won't be botherd by anybody.)
What will be the score on BEC tonight? I'll tell you tomorrow. See you then!
PS)
Following is cited from Wiley2005 Module44 #50.
I took the answer (b):Cost of gasoline for $115,000=120,000-(30,000-(10,000+15,000)).
But I was wrong. The correct answer is (d). The amount of ending inventory is a cost that should be deferred until the corresponding products are sold in the following periods, which reminds me of the topic of absorption costing. Thus, the cost of 15,000 for the ending inventory should be subtracted from the $115,000. Therefore, the answer (d) is correct. Well... this is a good question. But, I'll never make it happen again!
--------------------------------------------------------------
#50. Mig Co., which began operations in 2003, produces gasoline and a gasoline by-product.
The following information is available pertaining to 2003 sales and production:
Total productio costs to split-off point $120,000
Gasoline sales 270,000
By-product sales 30,000
Gasoline inventory, 12/31/03 15,000
Additional by-product costs:
Marketing 10,000
Production 15,000
Mig accounts for the by-product at the time of produciton. What are Mig's 2003 cost of sales for gasoline and the by product?    
Gasoline
By-product
a. $105,000          $25,000
b. $115,000            $0
c. $108,000            $37,000
d. $100,000            $0