年金会計が変更になったという話を先日、下記でみつけました。
Journal Of Hiro Chan ( The big Face )
>SFAS158 Pension会計 重大変更 (March 03, 2007の記事)
「ありゃ、ありゃ、受験勉強で覚えたことが、次から次へと変わっていくな~」と泣きながら(笑)、いろいろインターネットで調べてみました。
軽いネットリサーチしかしてないので、はっきりしたことは分りませんが、どうやら、退職年金の引当について、Additional Pension Liability を計算するのに、ABO (Accumulated Benefit Obligation)ではなく、PBO(Projected Benefit Obligation)を使うことになったようです。(退職後の医療年金などについては、引き続きABOベースでの計上も可。)
Pension Expense (損益計算書「費用」項目)の計算の一部は、以前からPBOベースで計算してきましたが、Pension Liability(貸借対照表「負債」項目)の計算は、私が受験していたころは、ABOベースで計算することになっていました。
Accumulated BenefitObligation :ABO
将来の昇給は見込まずに現時点の給与を基準として算定した累積給付債務
Projected Benefit Obligation :PBO
退職までの昇給を見込んで算定した予想給付債務
・・・なのですから、新基準(SFAS 158)では、負債引当額の見積もりが、一層、厳格化されるということのようです。
備忘録として、ネット検索でチェックしたウェブサイトのURLを下にご紹介しておきます。参考になった英文箇所の引用も併せて黒板に板書しておきますが、原典の内容については、自己責任でお願いします。
予備校からアップデート情報があるようでしたら、照らし合わせて見てください。
もはや予備校(私はAnjoでした:涙)のサポートが受けられないnnです。上記の内容に誤りなどありましたら、ご指摘頂ければ幸いです。
=== 【参考サイト: 黒板の板書は、全て、当該サイトからの引用です】 ===
1.FASB
>FAS 158 (変更ルール)
a. Recognize the funded status of a benefit plan—measured as the difference between plan assets at fair value (with limited exceptions) and the benefit obligation—in its statement of financial position. For a pension plan, the benefit obligation is the projected benefit obligation; for any other postretirement benefit plan, such as a retiree health care plan, the benefit obligation is the accumulated postretirement benefit obligation.

>FAS 87(従来ルール)
If the accumulated benefit obligation exceeds the fair value of plan assets, the employer shall recognize in the statement of financial position a liability (including unfunded accrued pension cost) that is at least equal to the unfunded accumulated benefit obligation.
2.会計関連記事を読む
>日経朝刊061125:米年金会計ルール変更
3.大和ファンド・コンサルティング
>米国年金会計の変更が企業のBSに与える影響
4.(財)日本アクチュアリー会
>退職給付会計の国際的動向
5.会計ニュース・コレクター(小石川経理研究所)
>「FASB Improves Employers'Accounting For Defined Benefit Pension and Other Postretirement Plans」
6.Jone's Day
>FASB Statement No. 158
Previously, the funded status of plans was disclosed in financial statement footnotes. For purposes of the new rule, a pension plan's funded status is to be measured as the difference between plan assets and the plan's projected (rather than accumulated) benefit obligation, meaning that the benefit liability will reflect assumed future pay increases, rather than simply benefits accrued to date. FAS 158 also applies to postretirement medical and other welfare benefit plans but permits these plans to measure their accumulated postretirement benefit obligation. For many companies, FAS 158 reportedly will result in reductions in balance-sheet shareholder equity.

I can study only for
3 days
before the exam.
(I'll be leaving Japan on the next Monday!)
【3:30 a.m.】
Good Morning.
Now I have to clean up the mess on the desk...
Then, I'll go over REG agan before I start FAR GLEIM from 5:30.
Got a good result in GLEIM-AUD last night.
Please give me the score in the real exam; you can discount the score to 75%. So, please!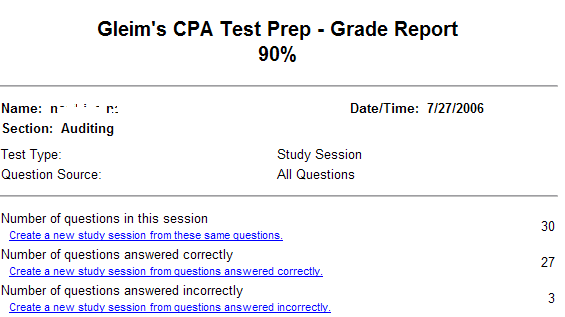 【5:00 a.m.】
And, I'll memorize the items to be disclosed regarding the pension plan by the end of today!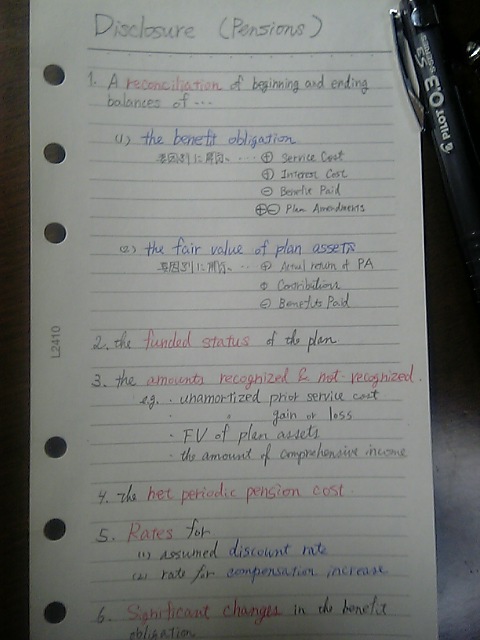 【6:10 a.m.】
As a regular practice, I tried 30 multiple choice questions of FAR, Financal Accounting Reporting, with GLEIM-CD.
This morning it took 36 minutes to finish 30 MCQs. Not bad.
And the result was ...
80%! Eightyyyyyyyyyyyyyyy percent!
I punched the air for victory pose!!
(↑ By the way, we call it "Guts pose" in Japanese. But I found "guts pose" was among Japanese English.)
I was very very happy with that. To tell the truth, until last night I got a very unsecured feeling abou my prep for FAR.
Of course, I'm aware that today's result was nothing but just one result of thousands of sham exams I went through so far. But, yet, it encourages me very much!!
OK! FAR! I'LL GET YOU!!
I succumbed to the strong drowsiness last night. After solving only one simple SIM of REG, I went to bed… I'm ashamed…
I woke up at 5:30 a.m., when I found a Track Back notice from
Kyoroich-san
. It was about his ODAI.
So far on my blog, I often refered to Kyoroich's ODAI, or CPA quiz, which is provided on his blog.
Thank you, kyoro-san, for your TB regarding your odai
yesterday
.
According to the TB, the ODAI went as follows:
--(QUOTE: from CPA in brief by kyoroichi:Apr.23, 2006)--------------
Q.(FARE) There are 2 methods about pension plan. As you know, 401k is classified as "defined contribution plan." The other element is ???

Q.(REG) Please give me the 3 examples, which partners have to recognize gain/loss.
----------------------------------------------(UNQUOTE)----
Usually, I put my answers on his blog, but this time my answer is TOO long to be left in the comment box of his blog. So, this time, please let me try it on my blog. (Maybe I should have put them in more concise manner!)
Ans.(FARE)
The other type is called
Defined Benefit Pension Plan
, which had been a heavy burden for GM, which is now shifting to Defined Contribution Pension Plan.
http://abcnews.go.com/Business/wireStory?id=1696977
Ans.(REG)
1) in formation of PS
PS interest received is Capital Gain for a partner when
  a) it's in exchange for the service provided by a partner,  
  b) it's in exchange for a property with PS's assumption
    of the liability that is larger than the Partner's AB of the
    property, or 
  c) the PS is an investment company
2) throughout PS activity in every period
   PS's gain or loss of every period is passed through to
  partners, which is to be reflected on each of their tax
  returns. The amount of loss that can be passed through
  is limited to the partner's basis of the PS interest.
3) in distribution
   a) in non-liquidating distribution, which is like dividends
      of corporation, partners recognize gain if s/he receives
      cash in excess of the AB of his/her PS interest.
   b) in liquidating distribution, which happens when partners
      liquidate PS and divide the PS's asset/liability to each partner,        
       ・partners recognize gain if s/he receives cash in excess of
         the AB of his/her PS interest (the same treatment in non-
        liquidating distribution)        
       ・partners recognize loss if they receive ONLY cash, AR, and
        inventory whose basis is lesser than the basis of their
        PS interest.
... well, that's it.
Ah, I've gotta leave for the office, now! See you.