I failed in the Chinese exam (level 3) the other day.
So I have to resume my study of Chinese.
But, recently, I've been heavily practicing English.
The other day I had a meeting with someone from UK to discuss a variety of business issues. And I was very much disappointed with my own English. I tripped on even such a common term as "CFC charge," and naturally I wasn't able to express my opinion effectively in the meeting.
Since then I've been working hard to improve my English listening comprehension as well as speaking fluency by frequently accessing such web sites as follows:
English Newshour
You can listen o the audio file of updated news and you can read the transcript of the news, too.
Roger's CPA Review Course
His exciting lecure on USCPA exam should be very interesting to those who're preparing for USCPA exam!
Besides, his speech is so fast that, after listening to his lecture, the news in English Newshour sound relatively slow. haha
And I realized again that it's so fun to practice English.
Fortunately, now I often have a chance to use English in the office to communicate with people working in other countries. Taking advantage of it, I'll keep working on my English.
But, yeah.
I have to resume to study Chinese, too!
As reported yesterday, I happened to check out FAS 153 to review the rules for Nonmonetary exchange.
First I tried to access to FAS 153 through a part of my blog,
where I gathered my USCPA exam related information
. But the link wasn't there.
So today I added the link to FAS 153 to the pulldown menu list as follows.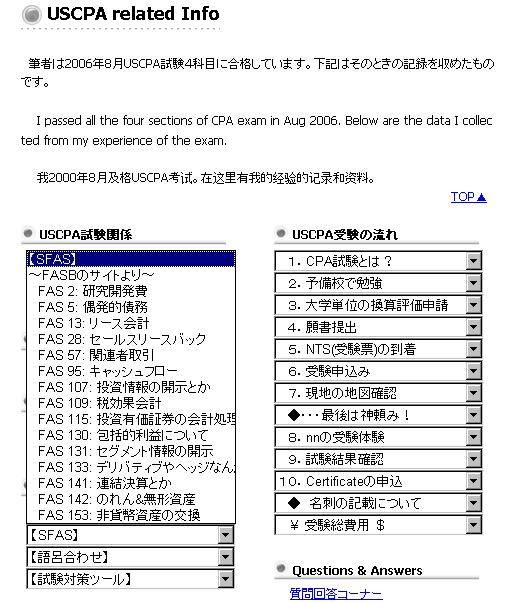 It's been a while since I modified the HTML of this blog last.
I have to do it at times so as not to forget how to do it. haha.
以前に書いた記事、「
【Q&A】 Nonmonetary Exchangesの考え方/解き方
」にコメントが寄せられ、久しぶりにAPB Opinion No.29や FAS No. 153について読み返す機会があり、とても良い復習になりました。
こうして復習する機会が得られたのも、こうしてブログで勉強してきたおかげかな。
いや、何よりも、こうしてコメントを寄せてくださる方のおかげですね。
今後ともよろしくお願いいたします。
また落ちてしまいました。
筆記75点で合格しましたが、リスニングはなんと30点しかとれず、
今回もリスニングで落ちてしまいました。
無念です!
She looked at him in surprise.
彼女は驚いて彼を見た。
「驚いて」ってなかなかとっさの一言で出てきにくいですが、in surprise 便利ですね。
in astonishment だともっと驚いた感じかな。
in disbelief だと「ま、まさか!?」みたいな感じでしょうか。
They have been married for 14 years.
あの二人は結婚して14年になる。
・・・して~年になる
、という表現になるとついつい、「・・・年が経過する」という方の英文表現を使いがちになります。 14 years have passed since they married. みたいに。
でも、 単にfor~ でもOKですね。 でも、言えそうでなかなか言えない。