I have been accompanying a group of foreign researchers these days to assist them to cover Kansai area.
Yesterday
I took them to the outskirts of some rural villages in Kyoto.
Today I took them to Kobe.
In the morning I took them to
DRI
, Disaster Reduction Institute, to cover the story of the Great Hanshin-Awaji earthquake.
I had them take a tour inside the institution building, where you can learn what the earthquake was, looking at the exhibited items and watching the movie.
The foreign researchers seemed to be impressed to see the exhibition.
So was I.
*************************************************************************
What was nn doing on the day?
In 2005, I was a freshman at the university. I was living in a dormitory on the hill in Mino, the northern part of Osaka.
On January 17, I sat up all the night, sitting at the desk, preparing for the coming exam. Right before the dawn, I went to bed, when a big tremor hit the dormitory.
It wasn't such a destructive one where I lived at that time. So I thought it was just another quake which occasionally happens in Japan. I just thought I'd chat over the big quake with friends at school next morning.
When I watched a TV news early in the morning, it said we just had a very big earthquake. And that' was all. The news anchor didn't say anything horrible at that time. So I again thought it was nothing. But I was wrong. It was because the earthquake was so destructive that all the information communication was no smooth at all between the disaster area and the TV station.
An hour later, I happened to watch anther TV news and I just couldn't believe my eyes.
It was a view from a chopper in the sky.
The fire was covering all over the city.
It's like what I learned about wars in the history textbook.
I didn't have victims among my acquaintances. But I occasionally heard what it was like from my friends who heard the story from their friends. So horrible.
Something like war is not so real here in Japan. At least it wasn't so real to me, until this earthquake.
*************************************************************************
Above is what I remembered to visit this institution.
And I learned more about the earthquake here.
When the movie finished, I felt tears running out of my eyes.
All the information that is exhibited in this institution is so real and vivid.
I understood it when I heard that those who survived the earthquake don't want to visit the institution.
Anyway it was good that I took the foreign researchers to that institution to let them understand what it was like. I think they could give a very significant report to their countries.
After that, I assisted them to shoot a film of the view of those industrial ports, and the view of Japanese people shopping at the mall.
It was evening when we finished shooting the film.
I took them to a bar, where I gave a brief and general introduction of Kansai area to them over drinks.
Today is the last day of my assistance; they're leaving to their home countries tomorrow.
A member of the group gave me a badge.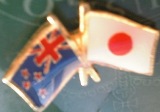 I felt so honored to be able to work for them.
It's almost for the first time for me to use English so much in my business in the last few years.
I don't know yet whether I'd change my job now that I got CPA, but if I could, it'd be wonderful if I can find such a workplace where I can contribute to the company taking the advantage of my English skill, and hopefully, of the knowledge I got from CPA study and my experience in financial industry.
Anyway, the last few days were very interesting and inspiring days for me.