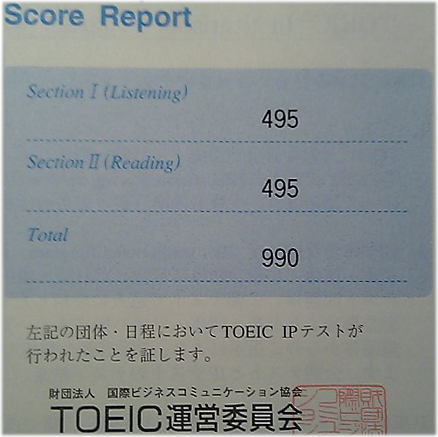 Later on, the score report arrived. ↑
-----------------------------------------------------------
TOEIC score: 990, 得了满分!
It was just before noon. I was working in the office. Got a call from the personnel dept. Since I'm currently transferred to a different workplace, I sometimes receive notices directly from the personnel dept now.
I thought today's call is one of those occasional notices about something.
But today he said "Hi, nn. The result of TOEIC has arrived here now."
"Yes," said I, being a little bit puzzled, because I've never got a call from the personnel dept just because they've got the result of the exam I sat for.
"You've got a perfect score. I'm gonna mail you the result report, but I just wanted to let you know about it now."
Did I hear that right!?
"What's my exact score, then?" I asked.
"Well, here it says…
990
."
So, it's no mistake. Finally, I got a perfect score in TOEIC. 非常高兴!
I've never stayed in any other country but Japan. So, I'm proud of the result for my background.
How could I? It could partly be accounted for by the fact that I've been keeping English diary here in my blog. And, you know, TOEIC is such a unique and tricky exam. Three days before the exam, therefore, I crammed, actually. Following are those books that I referred to. They were helpful. I recommend them.
TOEIC Test 900点突破 対策と問題
: You can test your own lexicon with this.
TOEIC TEST 実力診断模試
:You can tell your weak points with this. I tried this book, which "diagnosed" me as being weak in Part4 and Part5 of TOEIC, so I browsed (but didn't buy) some books on TOEIC listening technique at Kinokuniya right before the exam. And it worked!
Now I have only to work hard for USCPA!