It's been a while since I wrote things in English here last time.
   Occasionally I check out where the visitors of my blog are coming from, as was mentioned
earlier
. They come from Japan, the States, France, China, Korea, Indonesia, Singapore, Thailand, Australia, and so on.
Yesterday someone from Kenya seems to have encountered my blog.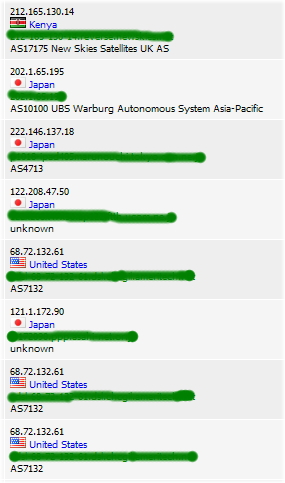 It's exciting just to imagine I'm having connection somehow with people in many different countries. Obviously, our backgrounds have such a wide variety that our interactive communication would give great insight to me. Why not leave your message here by giving a click to "comments" (the link-text below)? If it doesn't seem to work, please check here to see how it works
*** *** *** *** *** *** *** *** *** *** *** ***
   In Osaka, Japan, we're going to have an off-line meeting among (U.S.) CPA exam candidates, the notice of which is offered
here
. Although I said it's an off-line "meeting," it's not such a formal meeting as we have in an office. It rather is a casual party, which we often have with friends at evening. And I suppose we will find as much variety of backgrounds and ideas among those participants of the party, which would inspire us somehow and encourage our passion for study! See you guys, on June 16th (Sat)!
nn (
Certified Public Accountant of the United States (not in public practice)
)