I got good news.
Ms. Hitomi has got a credit for AUD
, which was the last section for her, which means
she has passed all of the four subjects
!
Hitomi, Congratulations!
I announced, here on my blog the other day, that
Mr. AD has passed all the four subjects
.
I have been friends with Ms. Hitomi and Mr. AD since we met in the CPA candidates
exchange party in March
.
When we met in March, we were all dreaming of passing the CPA exam.
And, now, our dream came true!!
In the last 12 months, throughout my daily blog communication and those off-line meetings held between the testing windows, I got many other friends of USCPA exam candidates.
I sincerely hope this line of CREDIT earnings will continue in an endless stream!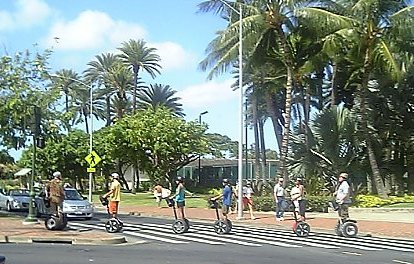 Above is a picture of an endless line of
Segywey
drivers running over the crosswalk, which I encountered in Hawaii where I was taking the CPA exam last month.