Got on a Full Charge !!
2006年 07月 04日
26 days before the exam
【5:30 a.m.】
Good morning.
【23:30】
I had to visit many spots in Kyoto today for business.
It was getting dark by the time I was leaving Kyoto.
【↓The view of the riverside of Kamogawa River】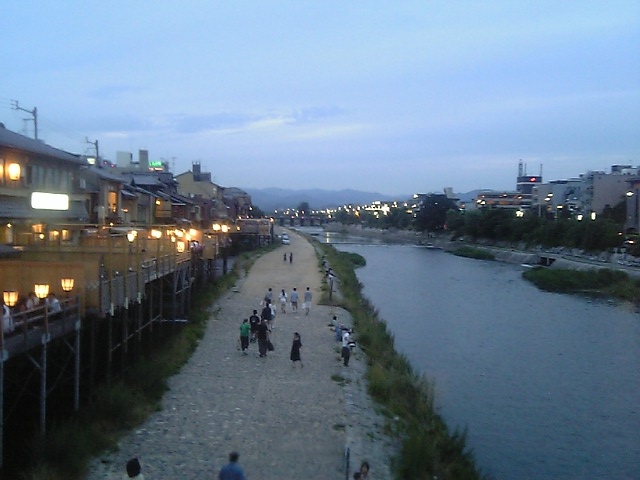 I was so much exhausted when I got home that I couldn't even make a move at all.
I was lying on the bed like a dead fish. I remained conscious, but was not willing to move to sit at the desk for USCPA exam prep …
"I've gotta go to study, but・・・," saying such a thing, I had been faltering around --- until I got a sudden call on my cell phone. It was from
Mr.Nihao-KT.
Talking with him for half an hour gave me a lot of energy to ignite my passion for study.
(Nihao-KT san, thank you very much for your encouragement!)
So I'm now perfectly awake and pretty much willing to study!
よっしゃ、やるでー!
Not many days are left for me now. I think I have to review some basic points of SIM: especially Written Communication & Research problem. I'll try to check out some important sections & codes using the following websites, which are helpful to prep for this kind of stuff. ( Links to the following websites are always displayed on the right column of my website as 【Prep for Research】)
For REG:
US TAX ONLINE
For FAR & AUD:
AICPA RESOURCE
For FAR:
FASB
I'll sit up all the night!