FACS, please help me out!
2005年 11月 12日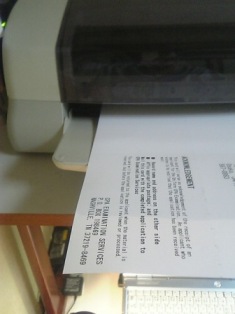 Tonight I prepared for the documents required for USCPA exam application.
I had already
had the form notarized at US consulate.
FACS issue had already been done, too. So I typed the cover letter and made an acknowledgement card with my PC, for which I used
MARUCHI CARD( a blank card for multipurpose).
I used one with product #51141, which was very helpful.
But, then
I noticed that I made a very critical error about FACS application!!
Not knowing what to do, I soon sent the following email message to FACS.
I'm going to ANJO to talk about this, too. But I doubt if Anjo can do anything for me on this. In the worst case, I might have to start from the very begining...
I hope things will work out in the good way!
--------- My message to FACS ------------------------------------------
Hi, I am nn from JAPAN.
Following inqury is QUITE URGENT and VERY IMPORTANT to me because I have to apply for USCPA exam by the end of this month.
I had received my foreign credential evaluation from FACS as of November 8th, 2004.
On September 22nd 2005, however, I have mailed to you a request that asked you to have an additional copy sent to CPA examination Services Delaware Coordinator since I didn't apply in 2004.
Then I enclosed US$10.00. But I noticed TODAY that you've changed the fee from $10.00 to $20.00 as well as the PDF form on your Web site.
I traced the mail I had sent to you, and the EMS trace system on the internet says it arrived your town September 26, 2005.
I'd like to know whether my request has already been processed and one copy has been sent to Delaware by now, or it has been suspended due to the short amount of money order.
I appreciate your VERY QUICK reply very much, because I have to have my application accepted by Delaware Coordinator BY THE END OF THIS MONTH.
Thank you very much for your assistance
Sincerely,
nn