←Click here if you liked today's diary. Thank you.
【6:00 a.m.】
早上好。(Good morning.)
我今天早上六点起床了。(I got up at 6:00 this morning.)
明天我要更早起!(I have to get up ealier tomorrow!)
Roughly a month has passed
since I took the USCPA exam at the beginning of August.
Although I cannot believe even now that I passed all of them, daily trivial events make me realize that I'm through with the exam.
For example, these days I feel it's so long
when I'm waiting for a stoplight to change.
And now I feel as if my office became much far away than it used to be before.
Why?
It's because I was always
reading my notebook about USCPA exam
, or
reciting some phrases
to be used in written-communication problems in the exam on my way to and back from the office everyday. I was so much concentrated that I didn't realize the passage of time during my commutation.
Whenever I was walking on a road
, I was reciting some sentences, thinking "
Before I arrive at the station
, I'll memorize the four types of transactions that the Statutes of Fraud will apply. "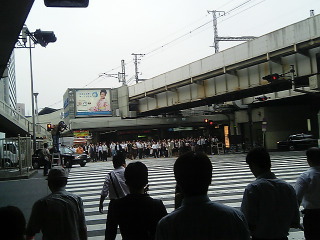 Whenever I was waiting for the stoplight
, I was
mumbling Independent Auditor's Standard Report
or other types of reports, thinking "I'll finish reading all the sentences
before the stoplight turns to green!
"
Now, a month has passed since the exam dates. And about a week has passed since I confirmed my success on the exams. And, at times, I happen to notice that I'm waiting for the stoplight blankly, without reciting anything, when I realize that I got released from the USCPA prep days…
(But, instead, I feel as if it took longer for a stoplight to change!)
In the context of USCPA study, the above mentioned stuff means I succeeded in the USCPA exam partly because I made the most use of
every minute in my daily life
to prep for USCPA exam.
Now I have to apply the same approach to study
Chinese
!
・・・日本語要約 ( カッコの中は英文中には書いていない補記です)・・・・・・・・・・・・
受験期を振り返って思うのは、いわゆる細切れ時間をよく活用したなぁーということです。
通勤の行き帰り、信号待ちの時間に「青に変わるまでに
監査報告書読誦する
」とか、「駅に着くまでに「詐欺防止法が摘要される取引き4種、英語で言えるように覚える」みたいに。(お風呂でシャンプーしながら担保の要件覚えたり、朝ごはん食べながら・・・など、いろいろです。)
試験を終えて、ぼーっと信号を待っていると、信号待ちにイライラしてきます。あれー、信号待ちってこんなに長かったっけ、と思うとき、ああ、勉強してないからかぁ、と今になって思うのです。(だから、今度は、中国語を暗唱しながら信号待ちをしなくては!)