【To be exact, April 25th 1:00 a.m.】  
   Today, our office had a farewell party, or a drinking party. Some people finish their cross-industrial exchange programs and return to their companies, and new members come to join us, starting their cross-industrial exchange programs. The term given to me to work here is going to end at September, and I'll be back to where I was. So I have to get through the USCPA exam by then. I was thinking abou such things very seriously in the drinking party, until I got drunk. I'm the youngest staff here and have no right to refuse when they encourage me to drink…
   It was 0:00 when I got home --- durnk. Since I couldn't eat much in the party, I bought an instant noodle on my way back home. After all, having an instant noodle after a drinking is my pleasure.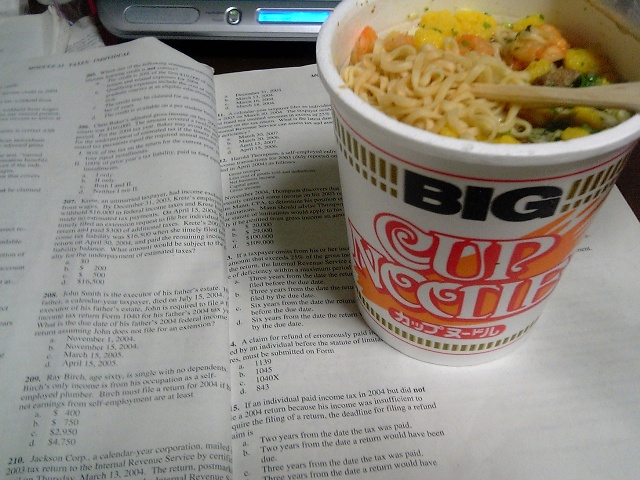 … ah, I'm full now, and it's 1:00 a.m. I can study for an hour to do 2 or 3 SIMs. After that I'll go to bed, and hopefully, I'll wake up in 5:00 a.m. and start doing 30 FAR MCQs from 5:30 a.m. Can you do it, nn? Well, you must do it, nn.
Comomo-san
's working hard.
Ulala5151-san
is sitting for the exam right now. How come you can give in to your weakness? Of course, you cannot!