A regular off-line meeting was held in Osaka yesterday, and I joined in it.
  It was the first time for me to participate in such a session, so I was very tensed and nervous --- until the session started. Though I called it "meeting," it wasn't such a formal meeting but it was just another casual drinking party that we usually have with our friends. So far I had exchanged views with other bloggers on the internet, but never had a chance to actually meet them in person until I had one yesterday.
  "We should meet many people with various backgrounds," is a regular cliché and it is true. In our daily life, however, we can hardly do it. But yesterday, I did it. All the participants (one USCPA holder and seven candidates) were from different fields, of course. Talking about various things with them, I found each one of us were at different stage of our USCPA exam prep schedule --- and of our life. They all impressed me a lot. I really had a lot to learn from them.
  Five glasses of beer and two glasses of whiskey on the rocks were enough to make me slightly drunk and so talkative. (I wish I didn't annoy you guys who participated in the session. Sorry if I did! )
  We had an after-party, so-called NIJIKAI, after that, and all the eight participants joined in it, too!
We moved to another bar, which was pretty much like a Hard Rock Café and a lot of foreigners were gathering for drinking. In the bustle of hot music, we started enjoying ourselves again. Harry-san and I even discussed a particular MCQ from BEC with a glass of half-and-half!! It was fun, definitely.
  Thank you very much, mamo-san, for your dedicated support and arrangement for this off-line meeting. I was very lucky to be able to be there and enjoyed myself very much.
私にとっては、初めて参加した定例会でしたが、やはり参加して良かったと思います。
「いろんな人と交流を」というフレーズほど口にしやすく実現の難しいことはありませんが、
今日はそれが実現した、とても楽しいひと時でした。
普段blogで交流させていただいている皆さんと実際にお会い出来た喜びはいうまでもありませんが、何より、自分自身の立ち位置を再確認できたのが、自分には大きかったと思います。既に合格された方、受験済みで結果待ちの方、これから一緒にチャレンジする方がいて、それぞれ皆ご自身のバックグラウンドとヴィジョンをお持ちで、そんな中で目標に向けてご努力されているのを聞いて、非常に感銘をうけ、また刺激をうけました。そして、「よし、これでいいんだ、頑張ろう。」と思えました。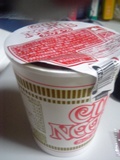 Arriving home at 12:30, I took a CUP NOODLE. (I don't know why, but you know, it's very delicious to take a bowl of ramen after you drunk a lot!) And tried to solve the MCQ I discussed in the bar, but I was too drunk to struggle with it…
Well, this is how it was like yesterday. If there's anyone who hesitated and didn't participate in the off-line meeting, you should give it a try!
  I have to start my USCPA study again from today!